Drink Me
(Or The Strange Case of Alice Times Three)
By Fengar Gael
Drink Me: Thousands of vagrant men are disappearing in London and suspicion falls on a trio of modern-day witches. Part black comedy, part cautionary tale, the play revolves around the mysterious power of women, the imagination of children, and the vengeance of damaged adults.
---
---
History:
DRINK ME was given staged readings at South Coast Repertory, aboard the Queen Mary through Panndora Productions of Long Beach, California, at the Kitchen Dog Theatre of Dallas, and the Abingdon Theatre of New York. The play received its premiere production at the InterAct Theatre of Philadelphia, and was produced at the Seanachai Theatre in Chicago, the Vortex Theatre of Albuquerque, New Mexico, and most recently at the Moxie Theatre of San Diego.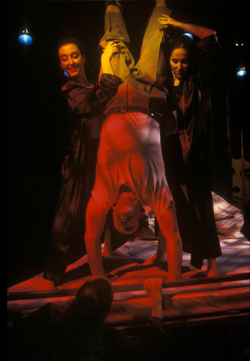 InterAct Theatre Company, Philadelphia, Pennsylvania (2000).
DRINK ME or
THE STRANGE CASE OF ALICE TIMES THREE
"TOP 10: The season's best! Gail knows how to assemble a plot...it's no easy thing to make you believe in witchcraft as a palpable menace, yet Gail pulls it off, in part because of her splendid way with language."
Clifford A. Ridley, Philadelphia Inquirer
The playwright has the uncanny ability to envision a world of disassociated ideas and quirky people while at the same time making the entire mix riveting and accessible. Gail liberally borrows themes from Lewis Carroll's Alice in Wonderland, as well as from Arthur Conan Doyle's Sherlock Holmes detective canon, and makes them her own."
Mary Houlihan, Chicago Sun Times
"Drink Me is black comedy at its very blackest. This masterful play by Mary Fengar Gail won the Vortex Theatre's 2001 Route 66 Playwriting Contest...and the very funny, very twisted script makes this one of the most enjoyable plays I've seen in a while."
Steven Robert Allen, Weekly Alibi (Albuquerque)
"Drink Me evokes an illustrious literary tradition: not just the obvious (Shaw, Wilde, Carroll), but also Joe Orton and Caryl Churchill. Like the former, Gail takes a beloved genre (here the prim British detective story) and turns it on its head. Like the latter, she uses history and fantasy to advance political and feminist interests... But Gail's language and invention are all her own...wickedly funny...enormously engaging."
David Anthony Fox, Philadelphia City Paper
"A modern-day witch tale that...encompasses other themes – notably, misogyny and the world's population explosion, with its attendant, pressing issues like disease, starvation, and the lack of clean, potable water. War, genocide and homelessness are also raised. That anyone could connect such disparate topics into a single play is breathtaking, but – to our delight – Fengar Gail does in fact do so. Drink Me makes us take a serious look at some of the many pressing issues facing us...yet does so not by lecturing, but by teasing our brains with a mystery and making us laugh."
Eric Marchese, Freelance critic
The Orange CountyRegister and Backstage West
"Every once in a while, a play comes along that asks us to suspend our disbelief and enter a world of pure imagination. Mary Fengar Gail's Play, Drink Me, is such a play. Drink Me turns the familiar conventions of the detective genre on its head, and then tumbles down the rabbit hole to a world of magic, bawdy mischief, and witchcraft."
Larry Loebell, InterAct Newsletter
"Historians, Alice devotees and cultural anthropologists will dig this play. So will actors because it is character-laden."
Charlene Baldridge, La Jolla Village News
"Gail's bold imagination ranges all over for her ideas and her jokes ---- supernatural lore, depth psychology, theater history. She's both a fantasist and a satirist at heart."
Anne Marie Welsh The North County Times
"... a delightful and unpredictable ride. Gail has a unique voice, and a wickedly twisted perception of people and life."
Pat Launer, San Diego Network News
Nominated for the Barrymore Award for Outstanding New Play