The Gallerist
(A Tale of Desecration and Desire)
By Fengar Gael
The Gallerist (A Tale of Desecration and Desire): While discovering some forgotten paintings, a Manhattan gallerist unearths a sordid family history of repressed passion and animal possession set against the backdrop of London between the Wars. The play explores the connection between obsession and creativity while drawing inspiration from Shakepeare's Othello and the metaphysical assumptions of several classic ghost stories. see the synopsis!
HISTORY: The Gallerist was given a full production by the Rorschach Theatre Company of Washington, D. C. on January 20th through February 19th, 2012, directed by Catherine Tripp.
On October 27th, 2011, the play was given a rehearsed concert reading by the Resonance Theatre Ensemble, in New York, directed by Deborah Savadge.
On June 5th, 2011, the play was given a staged concert reading at Will Geer's Theatricum Botanicum Seedlings, in Topanga, California, directed by Sarah Israel.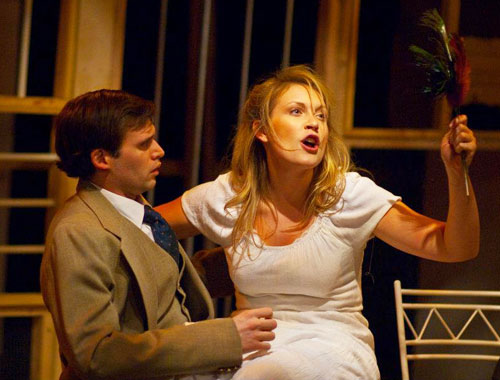 Louise Schlegel and Matthew Schleigh


REVIEWS of THE GALLERIST
(A Tale of Desecration and Desire)
"A fusion of gothic horror, Freudian intrigue and lesbian romance, Fengar Gael's drama,... is a tantalizingly oddball... generates a compelling momentum and keeps you on your toes."
-- Peter Marks, Washington Post
"If Gothic thrillers, The Picture of Dorian Gray, and movies like 'Rebecca' send you swooning, alight from the Victorian fainting couch and get on over to the Atlas Performing Arts Center for this world premiere production... A delectably lurid tale about demonic possession and soul survival...the play draws you in with its combination of creepiness and comedy, as well as how it touches on the issue as to whether or not animals have souls - and what happens to them after they die, and the dangers of taking pets into your home and your heart and considering them almost human. It's freaky good fun. More importantly, it speaks to the power of art to transform and transfix, and to heal. "
-- Jayne Blanchard, D.C. Theatre Scene
"Gael has impressively woven together The Gallerist's far-fetched premise, along with multiple intersecting timelines, to create an unconventional and suspenseful tale."
-- Missy Frederick, Washingtonian
"A disturbing high tea, with evil animal spirits and a hot lady who gets possessed by a monkey... What you see will most certainly be a surprise"
-- Liz Maestri, The Pink Line Project
"Rorschach Theatre continues to maintain a standard of excellence among its artists with their wonderful production of The Gallerist. With this production Rorschach will surely see it rise as one of the top tier theaters in DC. The story is complex and can't be done justice in this small review, but suffice it to say that murdered monkeys, lesbians, war-torn relationships, pet souls, and the gallery all come together in a wonderful mix of fantasy and horror... You will have an amazing amount to talk about at the bar afterwards!"
-- Clyde Durkee, Maryland Theatre Guide
"GREAT night of live theater! The story is unique and held my interest from the first moment to the last, and the language and characters are finely developed. The acting carries the unusual story along in a completely believable fashion and is uniformly excellent...This is a superb night of theater - go see it!"
-- Mary M. Gibson, Facebook