The Judas Tree was inspired by the case of Dorthea Puente of Sacramento, California, who poisoned her tenants and buried them in her garden. The plot deviates from the original story to study a woman torn between two cultures.
---
---
History:
THE JUDAS TREE was produced by Multi-Stages Theatre Company in New York at Teatro La Tea.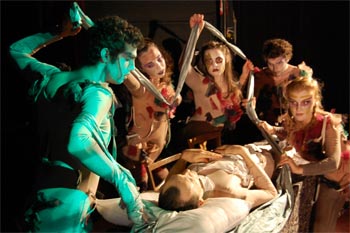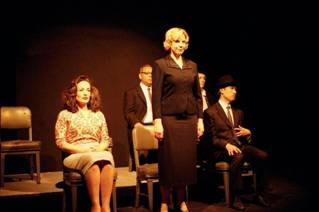 Resume for the Composer, ANIKA PARIS

ANIKA PARIS (Musical Score/Songs) singer/songwriter, recipient of Songwriters Hall of Fame's Abe Oleman Scholarship, Nashville's City Song Festival, and ASCAP Pop Award. Songs placed in Films include: Miramax's Bounce (Gwyneth Paltrow/Ben Affleck), Wise Girls (Mira Sorvino/ Mariah Carey), and numerous others; TV: WB's Related, Sex in the City, MTV Road Rules, Tyra, Ellen, Extra, The Bachelor, Showtime at the Apollo and more. Anika writes for recording artists, works with notable producers, and recently performed with Stevie Wonder, John Mayer, and John Legend in a 2007 Christmas Benefit. Anika and partner Dean Landon composed music for MultiStages' production of Novel.
Resume for James Schevill, lyricist of the Earth Songs

JAMES SCHEVILL, who recently passed away, was a poet, playwright, biographer, novelist, critic, editor, teacher, producer, administrator and Brown University professor, whose life was steeped from childhood in the arts and literature. Throughout seven decades, Schevill wrote hundreds of poems; 30-odd plays; biographies of Sherwood Anderson and publisher, Bern Porter; one novel, and numerous critical essays. He edited an anthology of essays on experimental theater performed in unusual venues; a collection of Navajo myths collected by his mother; essays and translations written by his father. Trinity Repertory Company produced his play, Lovecrafts Follies, a hilarious extravaganza that came to grips with the guilt and terrors of the Age of Technology. (New York Times). Other plays include Cathedral of Ice, The Emperor Norton, Edison's Dream, and an evening of short plays entitled, American Fantasies. Schevill also started the MFA in playwriting at Brown University which has become one of the pre-eminent programs in the country. While at Brown, Schevill also wrote The Arena of Ants, a novel inspired by his military service
.
While at Brown, in addition to having his own plays produced, Schevill helped to establish and administer Wastepaper Theater dedicated to presenting shorter plays usually neglected as minor John Emigh, who directed several of Schevill's plays, notes that his writing for the stage was unique in the way that it revealed a poetic resonance in historical facts, restoring to events a sense of wonder and appreciation that Jim, himself, never lost in his genial approach to life.

REVIEWS & REFERENCES
From MultiStages