The Usher's Ball: An elderly usher is hosting a ball, but before the dining and dancing commence, the guests must convene in the theatre to witness a play of his own contriving, an ill-fated romance that takes place in London during World War One.
---
---
History:
The Usher's Ball was given a showcase production at the Collaborative Arts Project 21, directed by Michael Barakiva, featuring Lawrence Arancio, Jennifer Joan Thompson, Curzon Dobell, Linda Larson, Bonnie Black, Gene Gillette, Michael Hicks, Stephen Bel Davies, Nick Cianfrogna, Jake Green, Adam Covalt, and Ronan Babbitt.
Reviews:
Review by Stewart Schulman for www.theaterscene.net
The Usher's Ball is rich with unique fanciful imagination and metaphysical realism.
Someone said recently - as our culture hurled itself into the twenty - first century with its exponential advances in modern technology - that our young people seem to have lost their innate ability to imagine. They explained that children in elementary schools often prove themselves capable of outshining their teachers at technological challenges like mastering the art of playing computer games, but when it comes to the good old-fashioned art of imagining a story, many of them are members of a lost generation.
(Continued below ...)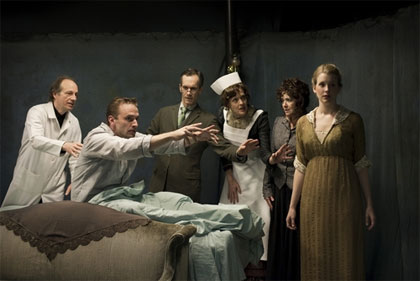 Thankfully, this is not at all the case with playwright Fengar Gael. With her latest play, "The Usher's Ball", playing currently off-off-Broadway at The Shop Theater @ CAP21 on West 18th Street, Ms. Gael proves herself to be one of the most imaginative new literary voices in the theater today.
The play takes place in "two acts and eighteen scenes" during the present and the past, and focuses on events in London during the years 1917 and 1918... the time of the First Great War. At its onset, in the present, an elderly gentleman, (a ghostly and versatile Lawrence Arancio), ushers his guests, (us), to a ball he is hosting. However, prior to the actual celebration we must witness a love-story-a theater-piece of his own contriving-in which he plays several roles. What ensues is a wondrous example of imaginary magical fiction that challenges us to redefine our notions of where justice, truth, courage, and dimensions of reality all exist.
"The Usher's Ball" is a play that touches on themes of love, loss, the futility of war, and the psychological cost to the lives of the soldiers who fight our wars, as well as to the lives of the civilians who suffer their consequences. It tells the tale of the ill-fated romance between a lonely young composer, Annabelle Snowden, and an admiring young usher, Wilfred Blackstone.
Wilfred, (a charismatically haunted Gene Gillette), is a recently wounded war veteran and teacher at a local boys academy who has a great passion for theater and music, and for the young Annabelle, (a wonderfully captivating Jennifer Joan Thompson), with whom he has fallen in love from afar. This rainy night, on her walk home after the theater, Wilfred has boldly followed her. When he introduces himself, the electricity of their immediate attraction is evidenced as a bolt of lightning strikes him. In that moment the magic of the play takes root, and a metaphysical transformation occurs for the star-crossed pair.
While recuperating at a military hospital, Wilfred, who has been severely burned, finds himself compelled to dig up the hospital grounds-reenacting the nightmare of shoveling trenches on the western front-and unwittingly excavates the bones of ancient warriors. His actions and his findings cause him to become famous throughout England and earn him the title of "The Digger". But he develops other unseen powers as well. Powers shared for some reason by Annabelle, who has fallen madly in love with him. Unfortunately, her faith and affection for him are tested when she discovers a diary written by Wilfred in German, implicating him as a possible spy-an offense punishable by death. Questions then arise not only as to Wilfred's guilt or innocence... but to his actual identity as well.
The ensemble cast of twelve is very strong. They're all at some point speaking with either English or German accents, singing, dancing, playing musical instruments, and acting as if they're living in early 20th century England and in Germany on the Western Front.
The creative team works magically in the small theater space available. The original music by Dennis McCarthy is delightfully evocative of the time and place. The period costumes by Arnulfo Maldonado are keenly defining of character. The simple minimal set by Shoko Kambara, creative lighting by Greg Coff, and sharp affecting sound design by Shane Rettig, all round out a production masterfully directed by Michael Barakiva. Mr. Barakiva uses every ounce of his creative imagination to take a strange, intriguingly other-worldly, and fanciful tale and stage it clearly, crisply and beautifully within an inch of its life. This production of "The Usher's Ball" makes it clear that budget isn't everything. Imagination is all.
Magical Realism is the term generally employed when describing a work in which magical elements are blended into a realistic atmosphere in order to access a deeper understanding of reality. And that term could be applied here, to this play. However, somehow when thinking about "The Usher's Ball", and its inventive approach to story-telling, one is compelled to come up with a newer, more exceptional term to describe it. What comes to mind is "Metaphysical Realism." (Metaphysics being concerned with explaining the fundamental nature of "being" and "the world beyond".) If this piques your curiosity, I suggest you try to find a chance to catch this refreshingly unique play. Because, it would seem that Fengar Gael, with this her latest play, is indeed ushering in a new genre of playwriting-one exploring worlds beyond realism, surrealism, fantasy, science fiction and even magical realism. A genre of play that might just someday be classified as metaphysical realism. Nonetheless, however it will be ultimately defined, "The Usher's Ball" is one fine production-rich with distinctive and spectacular imagination, romance, fun turns of plot and other-worldly wonder. In short-a metaphysical feast!
THE USHER'S BALL
The Shop Theater @ CAP21
18 West 18th, 6th Floor
May 6-8, 11-15, 18-22, & 25-27 -- 8PM
Running time 2 hours 15 minutes
Tickets $18. www.cap21.org 212-807-0202
MORE PICTURES - run mouse over thumbnails to enlarge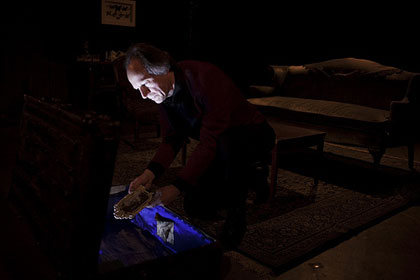 Edgar the Usher
Annabelle clasping her umbrella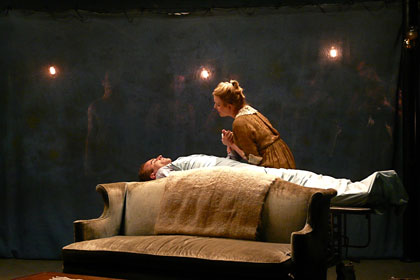 Ghosts watch while Annabelle sings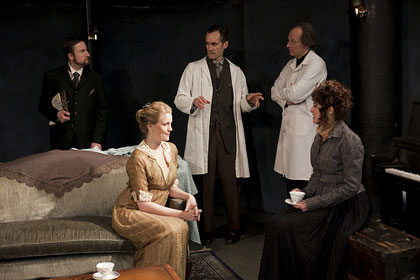 The doctors and Annabelle and Mavis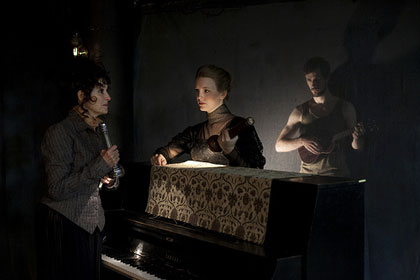 Annabelle and Mavis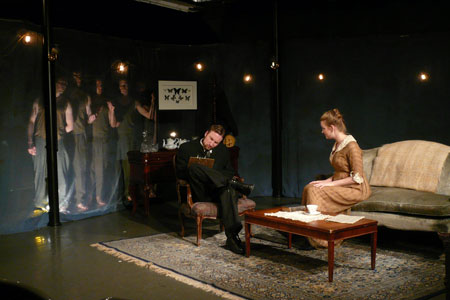 Five ghost soldiers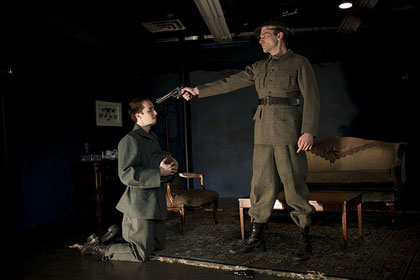 Wilfred with the gun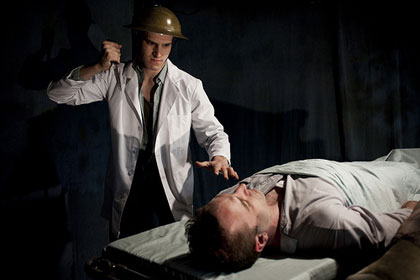 Tarbox stabbing Wilfred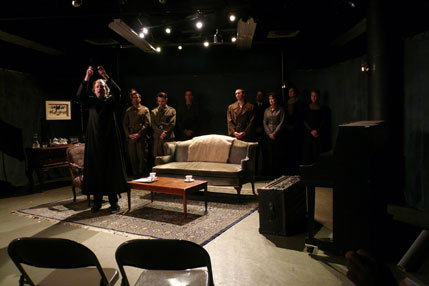 The preacher in full voice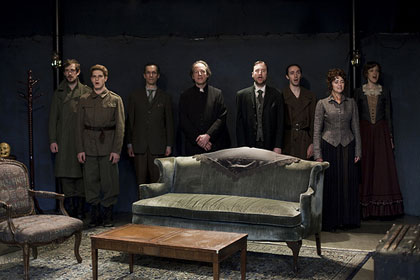 The chorus singing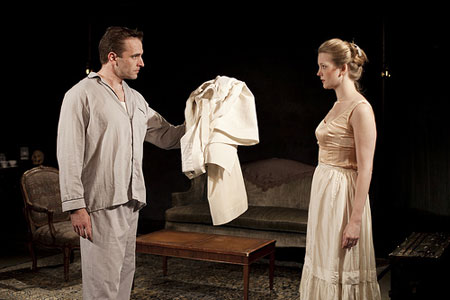 Confrontation
---

LISTEN TO THE SONGS HERE:
Our Boys
Soldier Boy
Gravediggers Dance
Somewhere a Soldier
Pyramids of Peace
Lyrics by Fengar Gael
Music by Dennis McCarthy