Soul on Vinyl is an original full length musical, employing many styles of music to reflect the pluralism of the United States while relating the story of an idealistic evangelical preacher who has lost his mental moorings. SOUL ON VINYL requires a cast of at least eight actors playing multiple roles, as well as five musicians: a pianist, a guitarist, a bass player, a synthesizer player, and a drummer.

---
---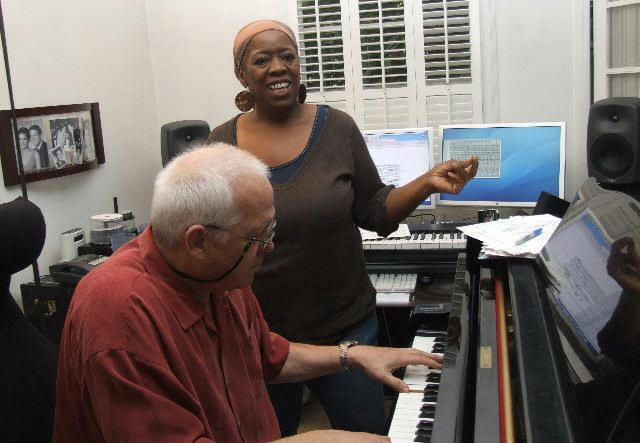 Pictured: Dennis McCarthy making the CD of the songs of Soul On Vinyl in his studio in Burbank. The singer is Carmen Twillie.
History:
SOUL ON VINYL is a work in progress that was commissioned by New Jersey Repertory through the National New Play Network, and was given a staged reading at New Jersey Repertory, and a recent table reading at the CAP 21 (Collaborative Arts Project 21) on July 9th, 2012 where Dennis and Fengar are current writers in residence.
---
RESUME OF THE COMPOSER, DENNIS McCARTHY
McCarthy is a seven-time Emmy nominee, and won the award in 1993 for his work writing the main title to "Deep Space Nine" and again in 1996 for the score to the episode, "Unification, Part 1" from "Star Trek: the Next Generation." He also recently jumped into theatre to work for South Coast Repertory in Costa Mesa, CA, composing music for "Of Mice And Men," "Much Ado About Nothing," "On The Jump," "The Dumb Show, "Dicken's Christmas Carol," "The Beard Of Avon" - the premier of the Amy Freed play, "Getting Frankie Married, Afterwards" by Horton Foote, "The Only Child" by Quincy Long and most recently, "An Italian Straw Hat" by John Strand.

One of the most in-demand composers for films and television, Dennis McCarthy has spent his life in and around music. One of the musicians he met in his early years was Glen Campbell who asked Dennis to join him as a keyboardist. As Glen's fame grew, he needed an 'on the road' arranger/conductor and McCarthy took on the challenge of a musical self-education and the mentoring of many wonderful musician/ arrangers. The association with Campbell, led to McCarthy's first television work, acting as the musical coordinator on the long running "Glen Campbell Goodtime Hour" variety show. Dennis also served as musical director for three seasons of "The Barbara Mandrell Show." He went on to become Alex North's scoring assistant, orchestrating North's score to "Wise Blood," before McCarthy embarked on his own composing career in the early 1980s. Nelson Riddle became another source of inspiration; it was Nelson who suggested McCarthy spend more time composing original music so as to develop a catalogue of his own works. McCarthy spent four years on "Glen Campbell Goodtime Hour," working and learning from Marty Paich as well as Ray Charles and Earl Brown.

An opportunity to compose a film score in England opened doors for McCarthy when he returned to Hollywood, giving him experience in orchestral writing while also giving him a feature film credit that created new opportunities in Hollywood. One of them led to "Enos," a spin-off of "The Dukes of Hazzard," which McCarthy began to compose in 1981. A fistful of TV scores for Warner Bros followed included "V: The Final Battle," the new incarnation of "The Twilight Zone," "Dynasty," "McGyver," and a few movies-of-the-week like "Sam Houston: The Legend Of The Texans" and "Sworn To Silence." With George Doering, McCarthy composed the music for a series called "Houston Knights," which led to an assignment scoring the first of the two-hour "Police Story" shows. McCarthy was hired as one of the regular composers on "Star Trek: The Next Generation", and since then has contributed music to all the subsequent Trek series, including scoring the seventh Star Trek movie, "Generations" McCarthy's musical versatility hasn't stayed still for episodic television, however - he has scored a number of feature films and made-for-TV movies, including "Overkill: The Aileen Wuornos Story", "McHale's Navy", "Letters from a Killer", and several mini-series based on the popular novels by Danielle Steele.

LISTEN TO THE SONGS HERE:
Holy Spirit Revival
How the Spirit Flies
Living in the Ghetto
Dear Roger Billy
Rumboy Mulloy
The Dummy Doll
Lonely People
His Message
Myself Times Two
Raise Every Voice in Song
Lyrics by Fengar Gael
Music by Dennis McCarthy
All Rights Reserved © 2010